Dinesh D'Souza at Western
Wednesday night was the ultimate exposé of liberal political correctness on campus... Mr. D'Souza debated Tim Wise on affirmative action. Too bad Mr. Wise's biggest points were only backed up with eye-rolling, crude language and assenting jeers from the notoriously biased crowd instead of real facts and reason. There were gasps whenever Dinesh would say something wild like, "the founders weren't racists." ... You get the point. I, having already read many of his arguments, was glad enough to see what the real reaction is when they are employed.
I'm sorry I don't have good pictures of the actual debate--I couldn't deflash my China-made camera.
Ok, so the real exciting part was meeting Dinesh and having him sign my copy of "
What's So Great About America
." Below is is the photo-op with yours-truly.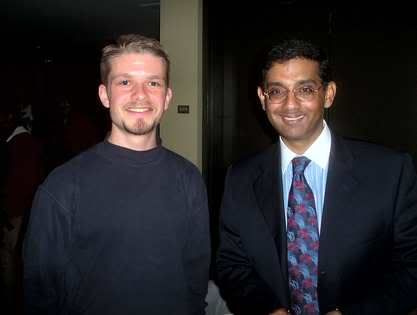 STEPPING BACKWARD
Tuesday, the College Republicans did a little Affirmative Action bake sale...
They were just doing their part to promote the debate. This has become a common activity for conservatives on many campuses across America. Most operate by selling cheaper to colored customers and more expensive to whites. It was made clear to the CRs, in no uncertain terms, that this type of activity would not be tolerated and would be shut down, were it attempted. Instead, they settled on just calling it an affirmative action bake sale (as an attention grabber) and selling the different baked goods for different prices.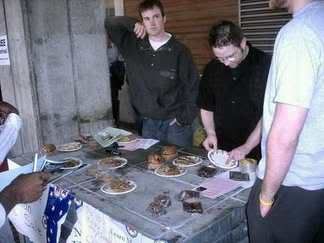 (Liam, Steve and Justin discuss affirmative action with various "customers.")
Crossposted at Western Washington Unraveled